On November 11, at 3:00 a.m. a car accident occurred on Myasnikyan highway, near the Water World complex. The driver of Mercedes SUV exceeded the speed limit and lost control of the car, which crashed into a fence and flipped. The driver and passenger were taken to Surb Grigor Lusavorich medical centre. The officers of Yerevan Traffic Police and Armenian Emergency Situations Ministry, as well as rescuers arrived at the accident site.
The driver, 37-year-old Karen Matrisrosyan died in hospital. The passenger, RF citizen, 21-year-old Alsu Fattakhova is in intensive care department, a photojournalist Gagik Shamshyan told NEWS.am.
According to witnesses, Martirosyan was a resident of Abovyan city, a bodyguard of Leader of Prosperous Armenia Party Gagik Tsarukyan.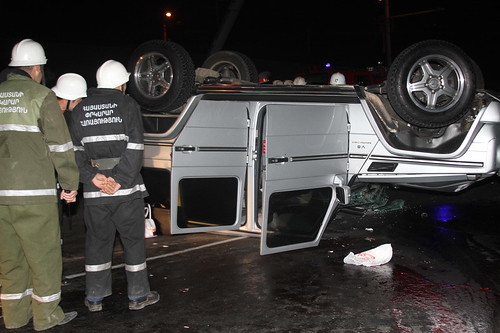 Photo and video: Gagik Shamshyan